Broccoli Cauliflower Soup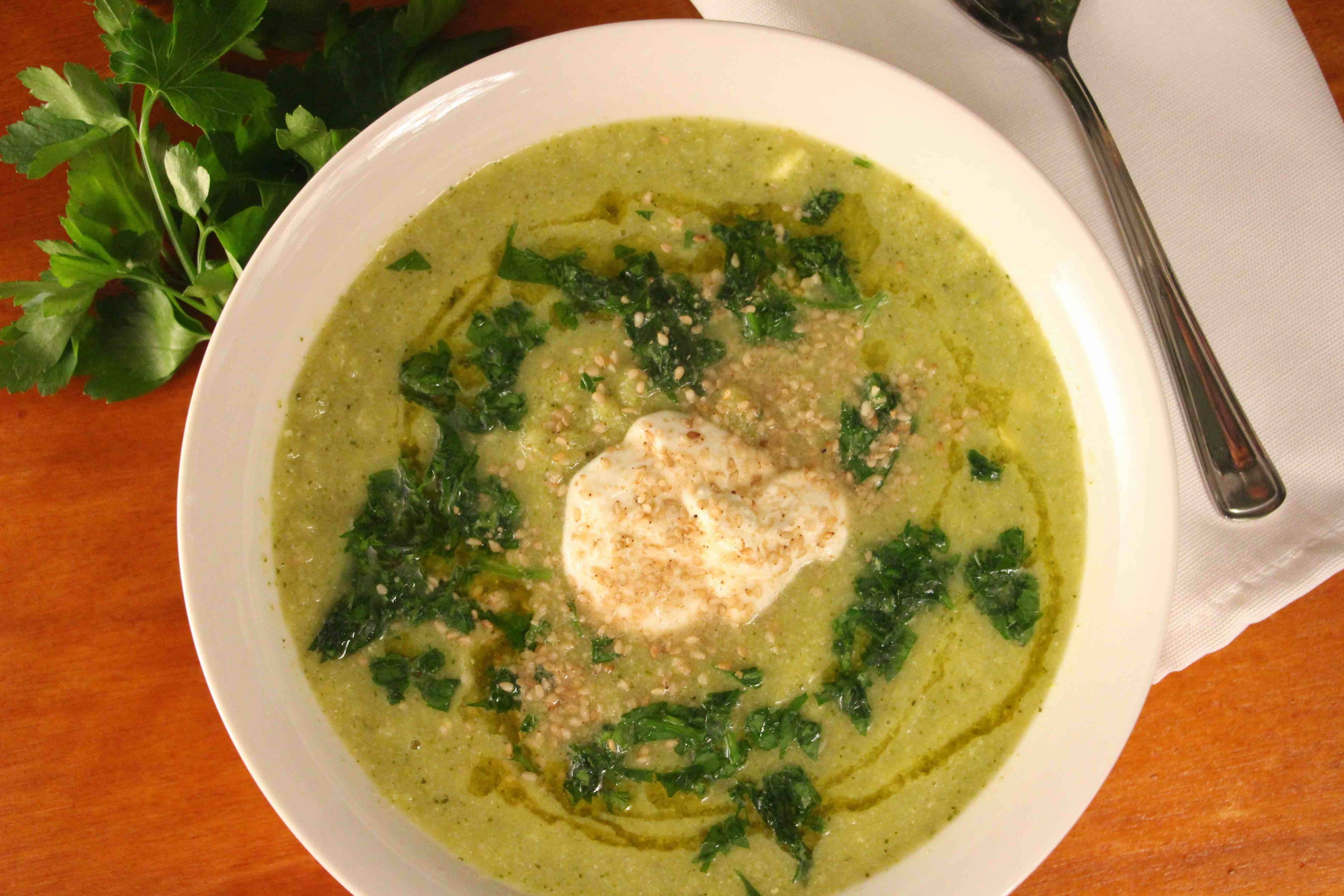 Based on superfood broccoli, combined with spicy goodness and beans for protein, this lunch dish is a yummy option for colder months when salads just don't work.  
Serves: 6-8
Prep time: 10 mins
Cooking time: 20 mins
Utensils: large saucepan & blender
Storage: keeps in the fridge for 5-6 days
Suitability: vegetarian, gluten free
1 tbsp olive oil
1 onion, sliced
2 cloves of garlic, chopped
1 tsp ground cumin
1 tsp ground turmeric
1 litre liquid vegetable stock, salt reduced
1 cauliflower, cut into chunks
1 large piece broccoli, cut into chunks
1x 400g tin cannellini beans
1 cup natural, unsweetened yoghurt
½ cup chopped parsley
Black pepper
ActiFlex All-in-One Supplement

Our all-in-one supplement, ActiFlex, fights 5 arthritis symptoms with 15 potent ingredients. This unique formula was created by a long term arthritis sufferer, based on scientific evidence.
1. Heat the olive oil in a large saucepan over a medium heat and sauté the onion, garlic

and spices for 5 mins, until soft

 

2. Add the liquid stock, cauliflower and broccoli; bring to a light boil and cook for 15 mins

 

3. Add the cannellini beans and yoghurt, cook for two minutes and then blend

 

4. Serve with the chopped parsley, a dollop of yoghurt, cracked pepper and a drizzle of

olive oil

 
Tip: substitute beans with chick peas or lentils; add spinach or peas for an even bigger veggie boost
Curcumin, a substance in turmeric, may help to reduce inflammation. Several studies suggest that it might ease symptoms of osteoarthritis and rheumatoid arthritis, like pain and inflammation. In one study, turmeric worked about as well as ibuprofen for reducing pain. Other compounds in turmeric have also been found to be anti-inflammatory, and it's thought that these components may act synergistically with each other and/or curcumin to block inflammation. Curcumin is a key ingredient in our ActiFlex supplement.
Broccoli contains a compound called sulforaphane shown to have anti-cancer and anti-inflammatory properties. Research in the journal Arthritis & Rheumatism also suggests it could prevent or slow the progress of osteoarthritis. Researchers from the University of East Anglia (UEA) discovered that sulforaphane blocks the enzymes that cause joint destruction by stopping a key molecule known to cause inflammation.