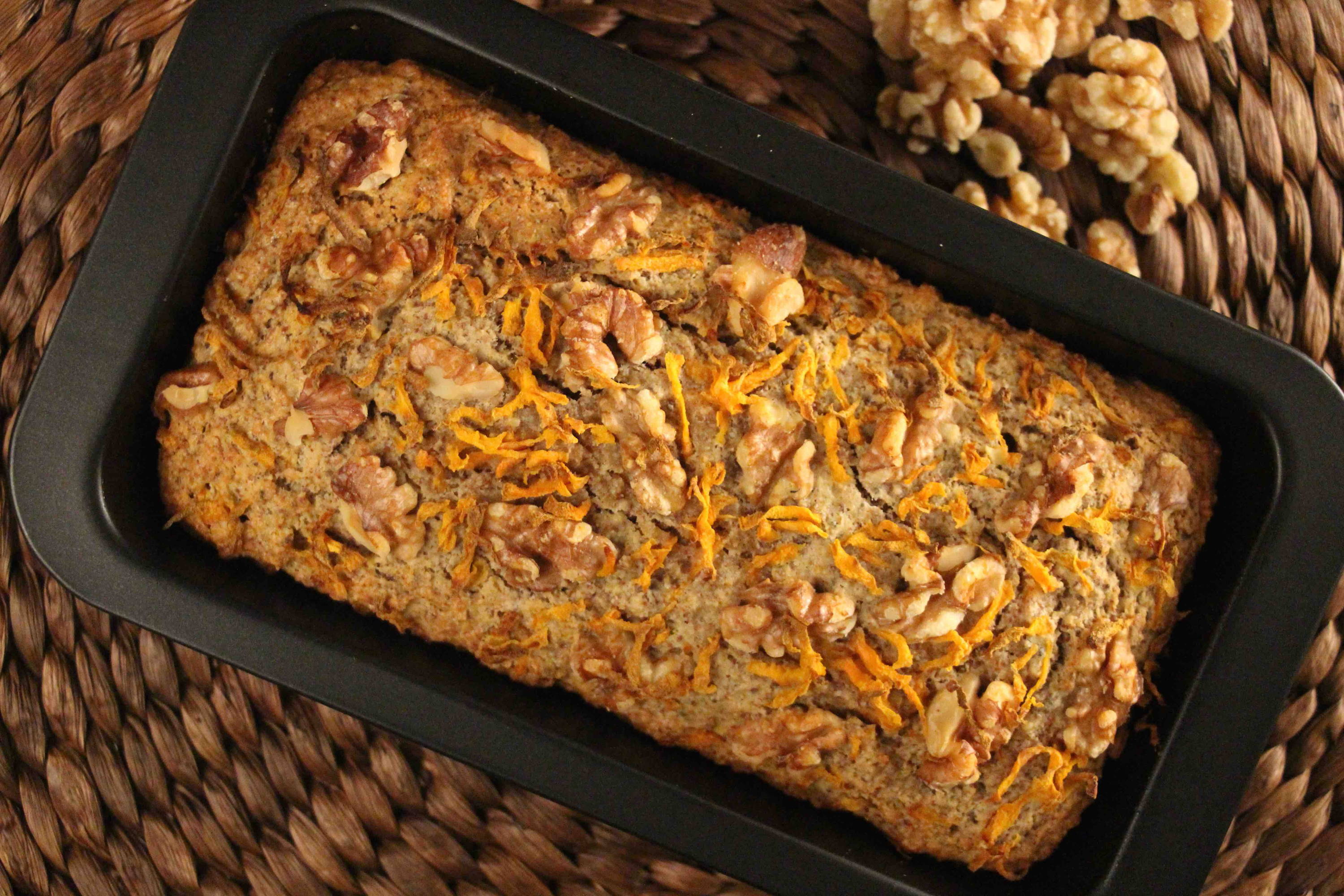 Serves: 6
Prep time: 15 mins
Cooking time: 45 mins
Utensils: 2 mixing bowls, loaf tin, stick blender
Storage: keeps in the fridge for one week
Suitability: vegetarian, gluten free, low fat
Dry bowl
2 cups almond meal
1/2 cup ground flaxseed or LSA mix
2 medium grated carrots
1/4 cup walnuts, crushed
1-2 tablespoons chia seeds
1 teaspoon cinnamon
1/2 teaspoon nutmeg
1 teaspoon baking powder
Pinch of sea salt
Wet bowl
3 eggs, beaten
1/2 cup almond or rice milk
1 tablespoon coconut oil, melted
2-3 tablespoons maple syrup or honey
1/2 teaspoon vanilla essence
ActiFlex All-in-One Supplement

Our all-in-one supplement, ActiFlex, fights 5 arthritis symptoms with 15 potent ingredients. This unique formula was created by a long term arthritis sufferer, based on scientific evidence.
1. Preheat oven to 180C degrees

 

2. Add the wet to the dry ingredients and combine until smooth

 

3. Place mixture in a greased loaf tin

 

4. Top with walnuts and grated carrot

 

5. Bake for 35-45 minutes, depending on your oven; leave to cool before removing from tin

 

6. Slice and serve with a little nut or plain butter; also nice toasted! (store in fridge or freezer)

 

Tip: add diced courgettes, instead of maple syrup/honey, for a delicious savoury version
Nuts contain moderate amounts of protein (9–20%) and 30g of nuts a day has been shown to lower heart disease risk by 30-50%, reduce risk of type 2 diabetes by around 25% and assist in managing weight. A daily 30g handful has also been found to improve longevity.

Research has shown that cinnamon, cardamom and cloves possess anti-inflammatory, antioxidant and anti-cancer properties. In addition cinnamon has been shown to lower blood sugar levels and improve circulation, which could possibly relieve pain associated with poor circulation.

 
Chia seeds are high in fibre and also pack an impressive dose of plant-based omega-3 fat alpha-linolenic acid (ALA).