Courgette Frittata Muffins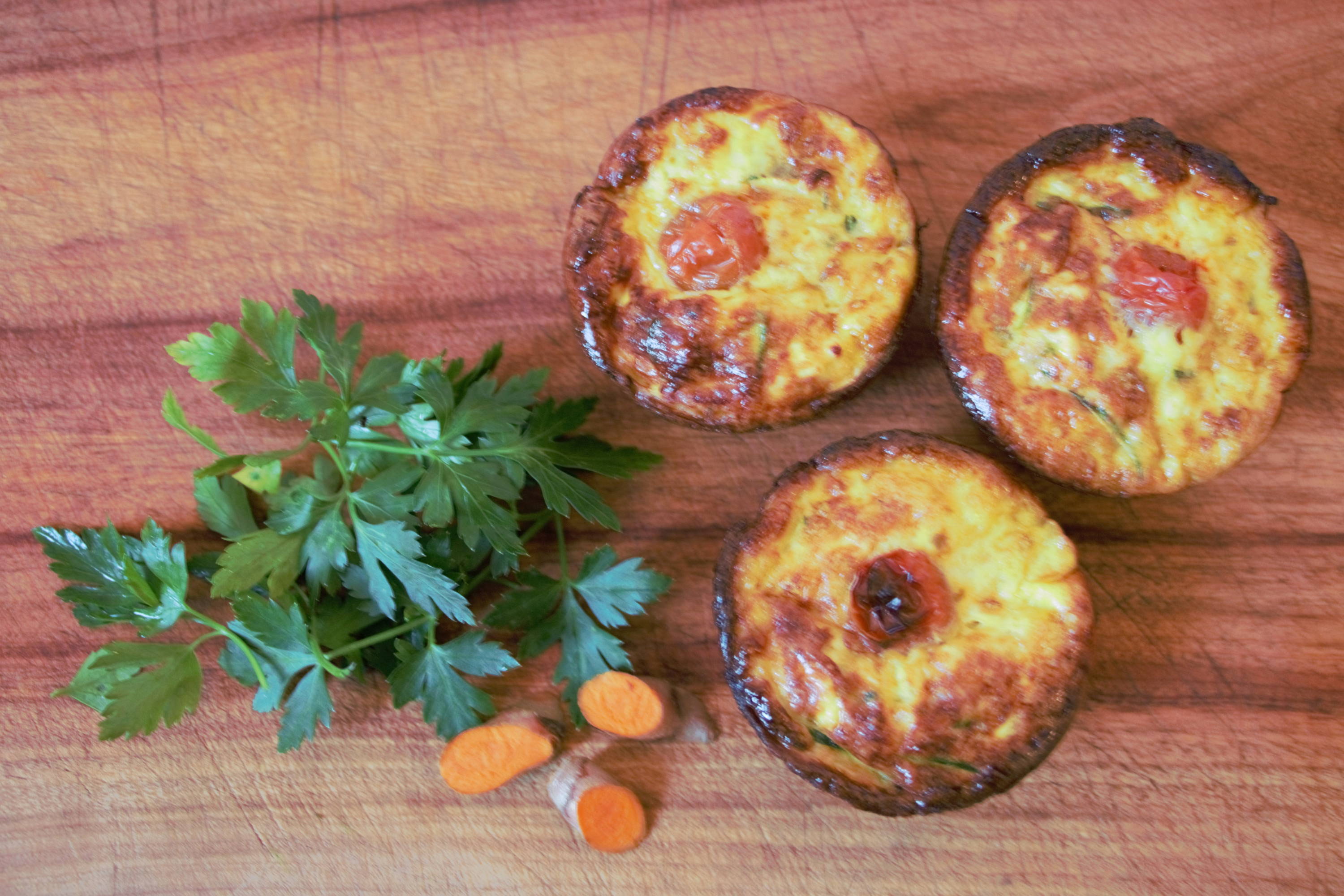 Perfect for breakfast, lunch or a tasty snack, these yummy frittata muffins are full of goodness and provide a long lasting energy boost. No more between meal slumps!
Serves: 4
Prep time: 15 mins
Cooking time: 20 mins
Utensils: large bowl & muffin tray
Storage: keeps in the fridge for 4-5 days
Suitability: vegetarian, gluten free
Extra virgin olive oil
250g ricotta
6 large eggs
1 large courgette, grated
100g Parmesan cheese, grated
1/4 teaspoon turmeric
Salt & pepper to taste
1/4 cup pumpkin seeds
8-10 cherry tomatoes
1/2 cup parsley
ActiFlex All-in-One Supplement

Our all-in-one supplement, ActiFlex, fights 5 arthritis symptoms with 15 potent ingredients. This unique formula was created by a long term arthritis sufferer, based on scientific evidence.
1. Preheat oven to 180C.
2. Mix ricotta, eggs, courgette, Parmesan, turmeric, salt and pepper in a bowl.
3. Coat muffin tray with olive oil using a brush or paper towel.
4. Spoon egg mixture into each hole in tray, divide evenly.
5. Sprinkle with pumpkin seeds. Place a cherry tomato on top.
6. Bake for 30 minutes or until golden. Remove from oven, cool down slightly and decorate with a little parsley.
Tips: instead of courgette, try roasted pumpkin; add onions and bacon for more taste
Eggs are a nutrient rich source of at least 11 different vitamins and minerals. A US study showed egg consumers have higher intakes of vitamins A, E, B12 and folate compared to non-egg consumers. Eggs are an important source of high quality protein, especially important for vegetarians.
Curcumin, a substance in turmeric, may help to reduce inflammation. Several studies suggest that it might ease symptoms of osteoarthritis and rheumatoid arthritis, like pain and inflammation. In one study, turmeric worked about as well as ibuprofen for reducing pain. Other compounds in turmeric have also been found to be anti-inflammatory, and it's thought that these components may act synergistically with each other and/or curcumin to block inflammation.
Parsley is a rich source of vitamin A and weight for weight has as more vitamin C than oranges. It is rich in carotenoids, phytochemicals that are associated with a lower risk of developing some cancers and heart disease, and improved immunity.

Tomatoes offer fibre and vitamin C and an antioxidant known as lycopene (which gives the tomatoes their red colour). Lycopene functions as an antioxidant by preventing damage to our body's cells, which may otherwise increase the risk of cancer.

Extra virgin olive oil is the highest grade of olive oil and one of the healthiest oil choices with a high level of monounsaturated fats, natural antioxidants, phytosterols and vitamins. The traditional Mediterranean diet, rich in virgin olive oil, has been shown to offer some protection against chronic diseases by reducing pro-inflammatory mediators. Virgin olive oil contains numerous phenolic compounds that exert potent anti-inflammatory actions. Of particular interest is the phenolic compound oleocanthal, shown to possess similar anti-inflammatory properties to ibuprofen.