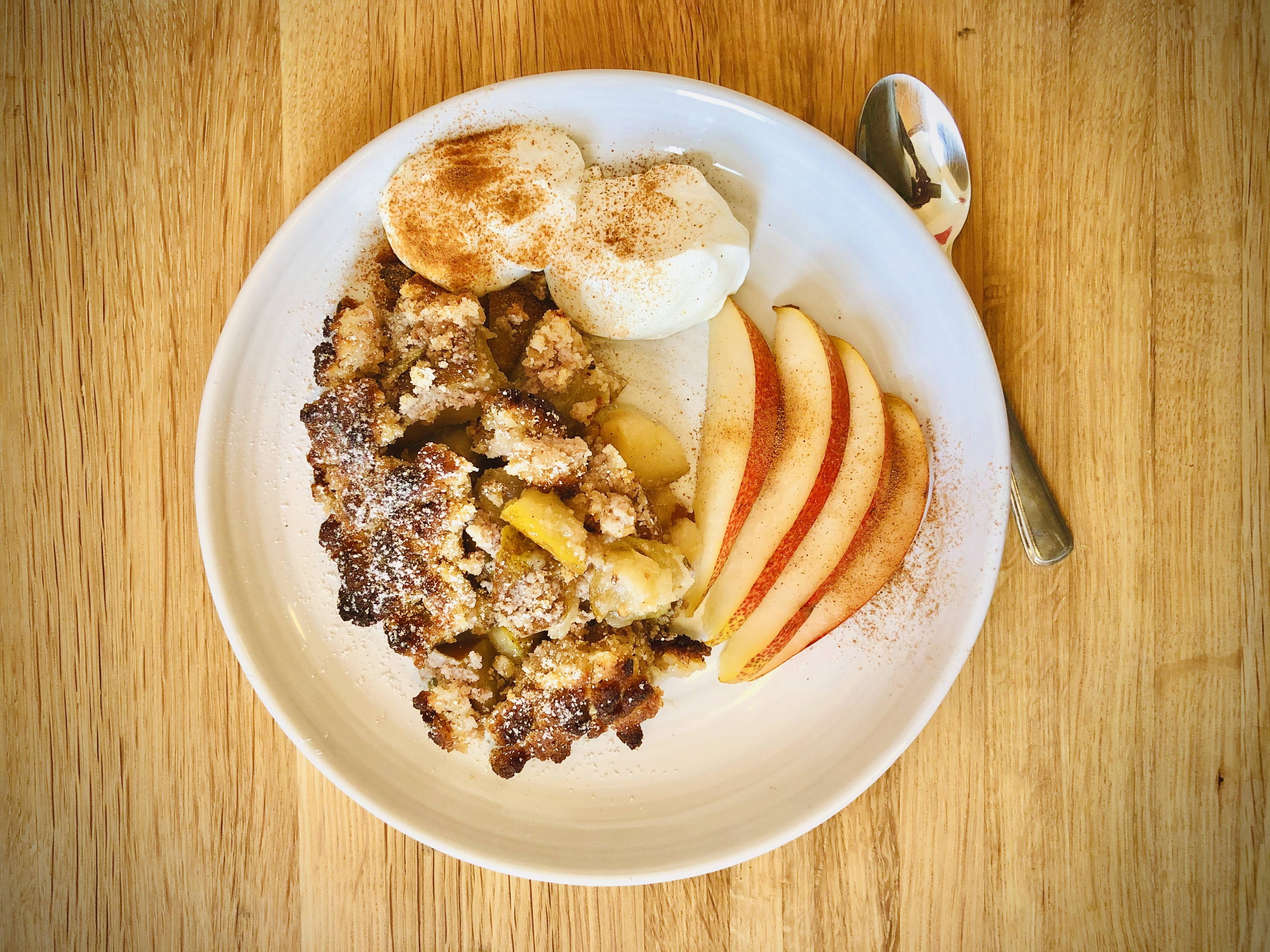 Nothing beats a sweet & sticky crumble for dessert, especially when it's low in sugar, made with healthy ingredients and uses seasonal fruit. Truly delicious.
Serves: 6
Prep time: 20 mins
Cooking time: 20-25 mins
Utensils: mid-sized pan, large mixing bowl, deep pie dish (or several smaller ones)
Storage: keeps in the fridge for 5-6 days
Suitability: low sugar, low carb
6 ripe pears, chopped
1/3 cup sweetener
(try sugar free Xylitol)
2 tsp cinnamon
1 cup fine almond flour
1/4 cup coconut flour
1 tsp baking powder
1/4 teaspoon salt
1 cup walnuts, crushed
1/4 cup double/thick cream
2 tsp apple cider vinegar
100g unsalted butter
A nutritious diet is vital to a healthy life. But at times a little extra help is needed. Our ActiFlex™ range of supplements combine multiple, high quality ingredients that offer several scientifically proven health benefits . All made in England, with no 'nasties'.  
1. Turn on oven and set to 180C

2. Add

the chopped pears, half the cinnamon (1 tsp) and just a spoonful (1 tbs) of sweetener to a pan

3. Cook on low heat, with a lid, for 10 mins until soft (pour off excess liquid if necessary)

4. Meanwhile, in a large mixing bowl, combine the almond flour, coconut flour, salt, baking powder, crushed walnuts, and remainder of the cinnamon and sweetener

5. Add the cream, vinegar and butter to the bowl; mix lightly with fingertips to form lumpy pieces

6. Cover the bottom of the pie dish with the cooked fruit; add the crumble mix on top; cover with tin foil

7. Bake for 15 mins, then remove foil and bake for 5-10 mins more (or until golden brown on top)

8. Serve with a sprinkle of cinnamon and cream, greek yoghurt or sugar-free vanilla ice cream

 
Tips: add berries (raspberries, blueberries or strawberries) for a touch of colour and a health boost; use different types of nuts (brazil nuts are especially healthy); add dry or chopped fresh ginger to the crumble mix.
Cinnamon has been shown in research to possess anti-inflammatory, anti-microbial, antioxidant
and anti-cancer properties. It has been shown to lower blood sugar levels and improve
circulation, which could possibly relieve pain associated with poor circulation.
Pears contain a good array of vitamins and minerals including potassium that helps to manage the body's balance of fluids, as well as phosphorus, vitamin K and calcium which are both needed for healthy bones and teeth.
Walnuts are one of the few plant sources of omega 3, containing 6280mg alpha-linolenic acid (ALA) per 100g. Research has shown that ALA from a 37g handful of walnuts each day can reduce inflammation. Walnuts can also lower both total and 'bad' LDL cholesterol levels without effecting 'good' HDL cholesterol.