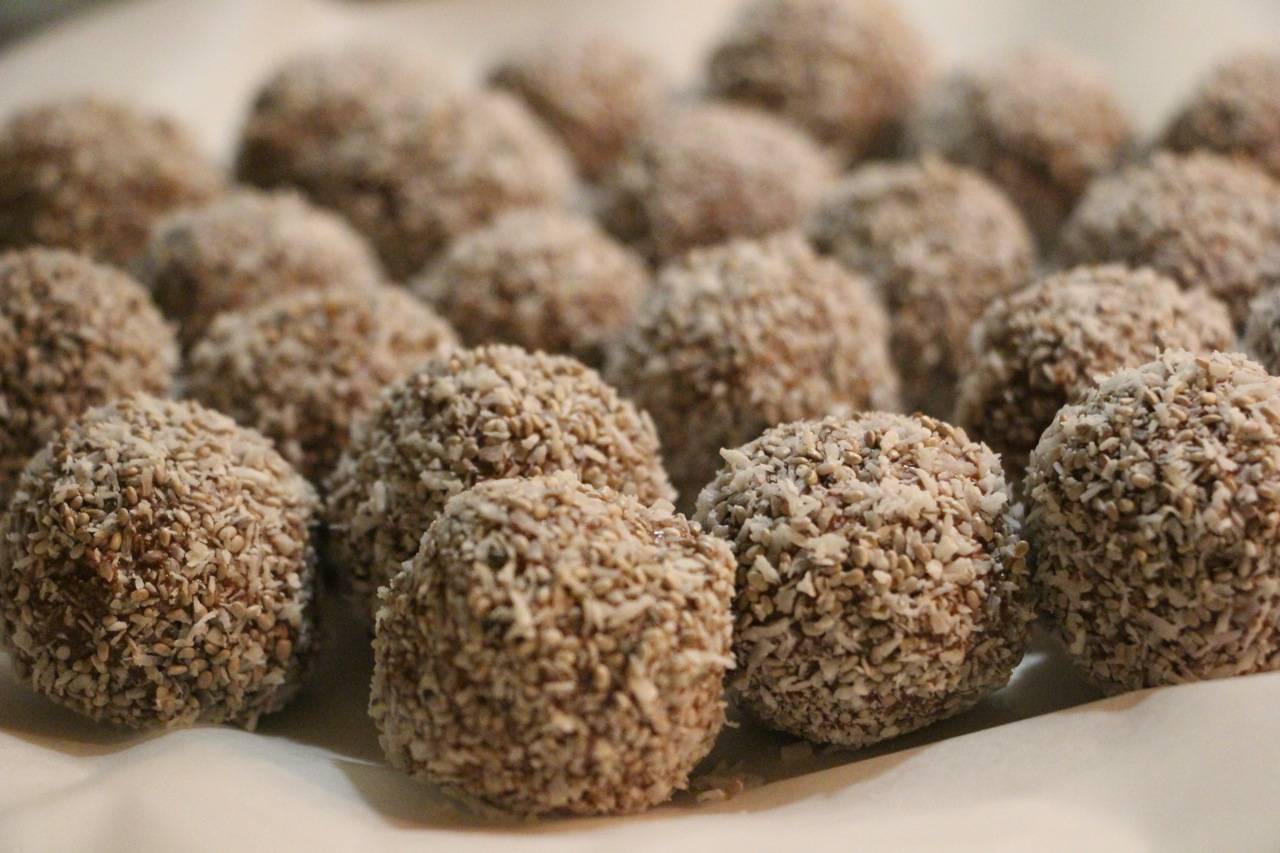 Say goodbye to sugary chocolate or carb-heavy cakes and instead keep a supply of these delicious, poppable treats on hand. Tasty and healthy? Yes, it's possible!
Serves: 8
Prep time: 90 mins
Cooking time: nil
Utensils: mixing bowl, 2 plates, baking paper
Storage: keep in the fridge for 1-2 weeks
Suitability: vegan, low carb
1/2 cup macadamia butter
1/2 cup coconut oil
1-2 tablespoons honey
2 tablespoon raw cacao powder
1 cup almond meal
1 teaspoon vanilla essence
1 teaspoon ground cinnamon
1/2 teaspoon ground cardamom
Pinch of sea salt
1/2 cup desiccated coconut, for rolling
1/4 cup chia seeds, for rolling
ActiFlex All-in-One Supplement

Our all-in-one supplement, ActiFlex, fights 5 arthritis symptoms with 15 potent ingredients. This unique formula was created by a long term arthritis sufferer, based on scientific evidence.
1. Place macadamia butter, coconut oil, honey and cacao in a bowl and mix until combined (you might need to melt the coconut oil in a warm water bath first).
2. Stir in remaining ingredients (except coconut & chia) until combined.
3. Place mix in fridge for 1-2 hours until firm.
4. Mix & spread desiccated coconut and chia seeds on a large plate.
5. Remove from the fridge and roll 1 generous teaspoon of the mixture into a ball with your hands. Roll in coconut & chia seeds and place on a lined plate. Continue with remaining mixture and coconut. Refrigerate again for at least 30 minutes or until firm.
Tips: instead of ground cardamon, try chili powder, orange zest or peppermint oil
Raw cacao powder is the unprocessed cocoa bean. It is a rich source of magnesium and
contains high levels of polyphenols that help to prevent degenerative diseases, particularly
cardiovascular diseases and cancers.
Chia seeds are high in fibre and also add an impressive dose of omega-3 (ALA) to any
recipe.
Cinnamon has been shown in research to possess anti-inflammatory, anti-microbial, antioxidant
and anti-cancer properties. It has been shown to lower blood sugar levels and improve
circulation, which could possibly relieve pain associated with poor circulation.